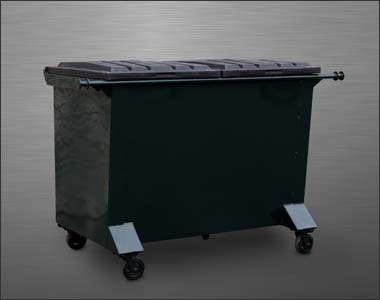 Expanded Service and Manufacturing Facilities
Al Melideo began manufacturing galvanized residential trash cans and other steel products in 1959. In the early 1970s, he began to make steel component parts for commercial container manufacturers. This led to front load and roll-off container manufacturing, and in 1974, Consolidated Fabricators Corporation (ConFab) was formed. Since then, ConFab has grown to become the largest container manufacturer of its kind on the West Coast.
Al's son, Michael, now heads the company and to this day, steel purchasing and processing are the company's strength. In 1978, steel processing was expanded by adding a steel service center. Steel coils were purchased directly from mills, enriching the company's buying power and better controlling inventory levels. During the 1980s, several more steel processing and container manufacturing plants were opened.
The vertical integration of steel and production allows ConFab to enjoy a great diversity of product line and design. In addition to complete steel processing facilities, ConFab has its own tool and die shop, full-time engineering department and South Coast Air Quality Management District (SCAQMD) compliant paint spray booths, ensuring product consistency, flexibility, quality, competitive pricing and dependable service.
The product line that began with refuse containers has expanded to include recycling, hazardous waste, material handling and storage containers, as well as nestable front load and roll-off containers. Many products are available in sub-assembled or knockdown form to facilitate out-of-state and overseas shipments.
In early 2020, Wastequip added ConFab to its portfolio of brands, rounding out our ability to offer complete nationwide product coverage for waste containers and related equipment. Today, ConFab operates seven fabricating plants that are geared to large-volume production and can meet market demands in a timely manner. The Centennial Steel Division's locations comprise over 300,000 sq. ft. under one roof.